World AIDS day 2021
DUREX AND DOLLY NOIRE JOIN FORCES TO SUPPORT THE FIGHT AGAINST AIDS
Dolly Noire and Durex collaborate on a new and exclusive limited edition of unisex socks. The capsule will be on sale here on our website and at the DLYNR Store in Corso di Porta Ticinese 83, starting December 1, 2021. All profits will be donated to ANLAIDS, an association established to stop the spread of HIV and AIDS through prevention and daily fight against the virus.
For this project, which was launched on World AIDS Day 2021, Italian illustrator and designer Davide Pagliardini was chosen for the project, who was entrusted with the design and graphics of the product, specifically designated for his style that takes inspiration from the world of skateboarding, underground music and street-art.
The exclusive limited edition by Durex X Dolly Noire, includes a unisex model, with the socks each designed in a different style, which will be sold only while supplies last.

Forty years after the discovery of the first cases of AIDS in the world, Durex will commit to donate the proceeds from the sale of such limited edition socks to ANLAIDS, the first Italian association founded in 1985 to stop the spread of HIV and AIDS.

Available from December 1, 2021, the limited edition socks will be sold at the Dolly Noire Store at Corso di Porta Ticinese 83 in Milan and here on the official website.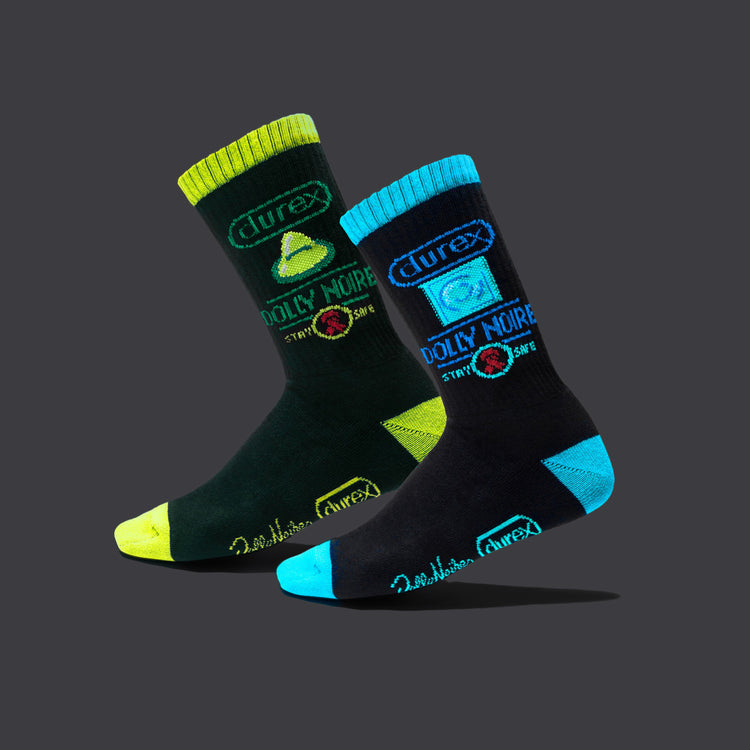 DLYNR | Durex Socks
DurexandDolly Noireare collaborating on a collection of limited edition socks in pure urban style,100% Made in Italyand with a charitable purpose.

The initiative, launched on theWorld AIDS Day 2021, includes a unisex model, with the socks each designed in a different style, and Durex, will commit to donate the proceeds from the sale of these socks toANLAIDS, the first Italian association founded in 1985 to stop the spread of HIV and AIDS, to support and promote prevention and the fight against the virus.

One Size

78% cotton 18.5% nylon 3.5% spandex