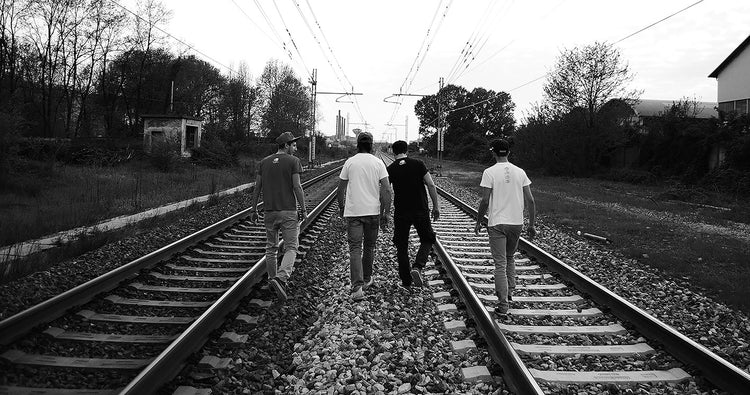 It all started in 2004, we were 15
We were going out in a group of almost forty people, and on a summer night spent like many others at the park near our house, we thought of a symbolic T-shirt for our company. Our hangout was a place called "le panche" (the benches) so, the first T-shirt we designed, featured the simple stylization of a bench.
It was a simple object, but from the very beginning it made us aware that we could imagine, design and create the style that we felt was most ours and that could speak about us. Apparel at that age became a communication tool of one's identity, a mood carrier, a moment, certain values and often a symbol of being part of a group. So we decided to design a line of t-shirts that could express our way of being, our own style.
The initial phase of our journey was marked by the design and production of the first t-shirts and the first contacts with suppliers. We collected orders from friends and relatives who in turn helped us to run more and more products.
In 2008 we opened our first VAT number as an individual firm, and in the meantime each of us continued with his own education between exams and night jobs. Training was complementary in the areas of: design, economics, marketing. Each of us was directly putting into practice every notion and tool learned during classroom courses.
In March 2010 our products began to be sold at the first Amedeo D. store in Milan, and although our brand was unknown at that time, we immediately obtained an excellent feedback.
In parallel, we started an intense promotional activity through event sponsorships, using the power of social media and web to tell our story to those who follow us and the stories of all those young people who, like us, pursue their dreams with stubbornness and perseverance, never giving up.
During our journey, we have become particularly fond of one product/symbol of a certain lifestyle: the snapback, the flat visor beanie named after the clip located on the back, which allows the size to be adjusted at will. Over time, the snapback has become our most beloved product.

Today, Dolly Noire is an S.r.l. officially founded on July 16, 2013, for which we work day and night with all the passion we have, carrying on and realizing, day by day, that dream born on a bench at the age of fifteen.
It was 1996 when the cloning of the first living being was announced to the world: the sheep Dolly, a symbol of a perfect, homogeneous, repetitive world. A uniform, unchanging white flock.

But from this homogeneous expanse of which we are all a part, Dolly Noire wants to bring out her black soul, to affirm the value of diversity, of speaking out from the chorus. Being black sheep no longer means being the worst, but having the courage to create, make and be the difference.
Diversity is where creativity and imagination are not limited to conventional patterns, but seek definition and shape to one's identity.
Dolly Noire spurs people to be themselves, invest in their talents and pursue their dreams. This is what we believe in, and our creations are dedicated to all those in a dolly world who want to leave a trace noire.